LIFE SCIENCES
Liverpool and life sciences go way back. Today, we're building on these foundations, investing in the future, and encouraging even greater levels of collaboration. Did you know Liverpool's Doctor Duncan was the UK's first public health officer.
The Liverpool School of Tropical Medicine, established in 1898, was the first institution in the world dedicated to research and teaching in the field of tropical medicine, and where the winner of the UK's first Nobel Peace Prize for Medicine was based.
Liverpool and the city region is home to over 90 life science companies delivering products and services worth in excess of £1.7 billion per annum, contributing over £300 million in GVA to the local economy.
Multinationals such as Unilever, Astra Zeneca, Seqirus, Lilly and Bristol-Myers Squibb are already based here.
LIVERPOOL DELIVERS OPPORTUNITIES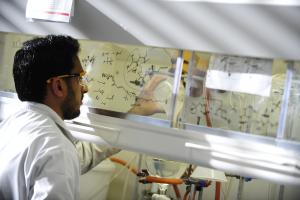 Liverpool supports business growth, competitiveness and innovation within the biomedical and life science sectors across the UK.
We're home to the largest national grouping of medicine, veterinary science and tropical medicine services in the country. Our health and bioscience portfolio is second to none, in both the commercial and non-commercial sectors. And we have one of the largest concentrations of biopharmaceutical companies in Europe. The future of biotech? It's safe in our hands.
The city centre's knowledge quarter provides for a concentration and co-location of research, industry and healthcare provision. Within, you'll have access to the University of Liverpool, Liverpool John Moores University, Liverpool Hope University, the existing Royal Liverpool University Teaching Hospital (being replaced with a new £424m hospital building and Health Campus), the Liverpool School of Tropical Medicine, and the Liverpool Science Park, all of these have a base in Liverpool's Knowledge Quarter.
Whatever your sector, we can offer the research base, skills and experience to discover, develop, trial and manufacture and ultimately grow your business.
LIVERPOOL HAS THE TALENT
Liverpool is one of the UK's top three biomedical centres and a European 'hotspot' for biotechnology and biomanufacturing. The area has significant assets in both the research and clinical base, including three local universities and seven hospital trusts.
Around 234,000 people of working age are educated to degree level here. The city's universities have significant research expertise which is ranked at a high international standard. They're augmented by world class R&D centres, including the School of Tropical Medicine, the Wolfson Centre for Personalised Medicine, home to the UK's first and only NHS Chair in Pharmacogenetics, and the Open Innovation Hub for Antimicrobial Surfaces, and provide an average annual student population of around 53,000. The Liverpool Life Sciences University Technical College is the first school in the UK specialising in science and health care for 14 to 19 year olds.
LIVERPOOL IS COST EFFECTIVE
Locating your business in Liverpool will give you an immediate competitive edge where it matters most - the bottom line.
Liverpool currently enjoys the lowest net effective rent of any key UK city location. The equivalent property in another established UK bioscience location such as Cambridge can cost up to 40% more.
LIVERPOOL IS DELIVERING RESULTS
Multinational names such as Actavis, Medimmune, Vitaflo and Baxter Healthcare are based right here, as well as dynamic new companies such as Med ePad. There are a wealth of new startups, spin outs from the universities and incubation units in our world-class science parks, as well as an active research and clinical base.
Liverpool-based companies sell product with a market value in excess of £1.7 billion per annum and our research base is engaged in delivering in excess of £470 million of research activity with partners across the globe.
LIVERPOOL CAN ACCOMMODATE YOU
Liverpool has a breadth of available sites and specialist facilities ideally suited to state-of-the-art life science needs. Take a look at our world-class lab-based facilities at Liverpool Science Park and Liverpool Innovation Park, with more accommodation for businesses on the way such as the Bio Innovation Hub, Royal Life Sciences Accelerator and Sensor City.
The city offers an ideal environment for public and commercial clinical research and trials, with well categorised patient registers, clinical excellence in multiple areas and an established support structure.